Persian Garden Carpet
'The carpet present's a bird's eye-view of a garden in full bloom, divided up by a wide channel and water courses branching off at right angles in a style typical of historical Persian and Indian garden design. Square flower beds with stylised flowers are set along the edges of the channels together with even more highly stylised scroll-like broders. The forking arms of the channel are separated by verdant islands. Trees are arranged diagonally on every second island, shading the flower beds with their foliage. The work is executed with great attention to detail: fish even appear amongst the wave pattern of the water.
Lovingly tended gardens were a luxury in the generally barren landscapes of the Near East. They established a contrast between wild dangerous nature and the idyll tames by humans and enclosed within garden walls. In this spirit, gardens are celebrated in Oriental poetry and adopted as a motif by painters, whilst travel writers from the East also sing their praises. The common folk planted oases along rivers and streams, rich patricians and princes transformed even recalcitrant terrain into paradisiacal park landscapes by deploying irrigation systems. The closeup portrayal of a garden on the carpet carries the experience of nature inside the walls of the palace – the carpet's dimensions suggest it was used in audience chambers or state rooms. The few extant early exemplars are truer to life in their portrayals of the natural world, whilst a more abstract style gained ground from the late 18th century on.'
Documenta XII, 2007, p. 32.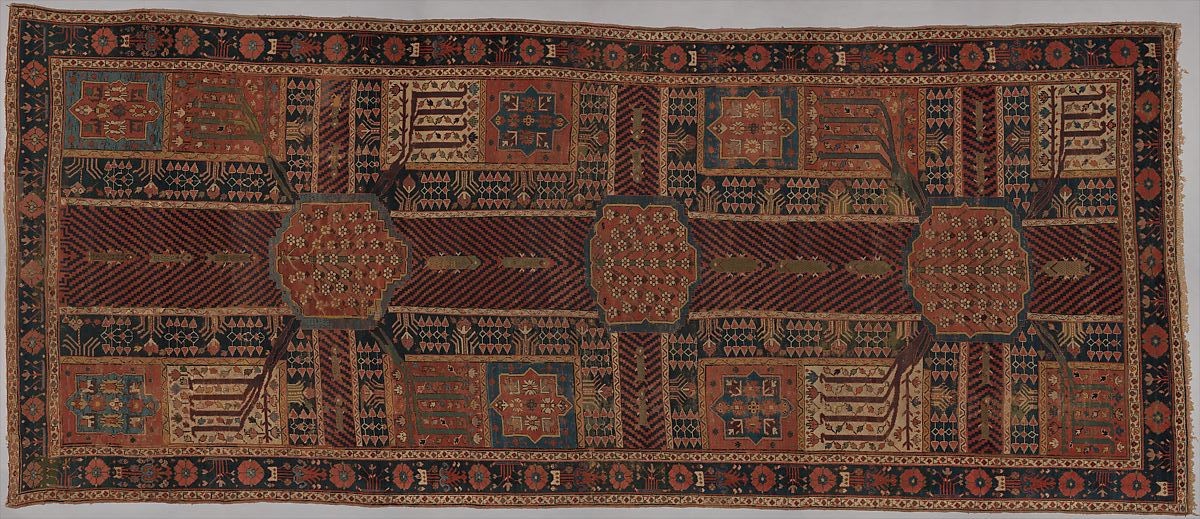 Image credit: Garden Carpet, ca. 1800, made in Northwestern Iran or Kurdistan. Cotton (warp and weft), wool (pile); symmetrically knotted pile, dimensions: H. 567.7 cm x W. 241.3 cm. The Metropolitan Museum of Art, Gift of William R. Pickering, 1967. Accession Number: 67.156